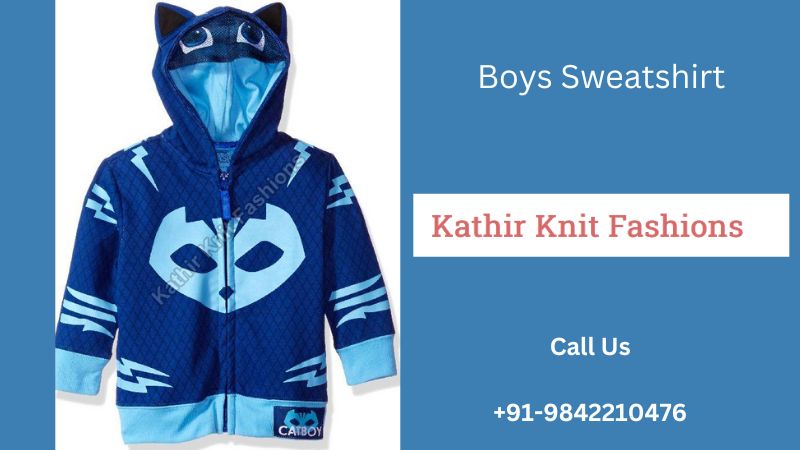 Sweatshirts have become an essential wardrobe staple for boys, providing comfort and style in one package. Whether it is for casual outings, sports activities, or lounging at home, boys' sweatshirts offer versatility and a wide range of options to suit various tastes. This is the staple apparel every boy should have to style their winter look. Buy the latest designs and styles from leading Boys Sweatshirt Exporters.
Boys' sweatshirts have evolved beyond basic loungewear to become fashion-forward garments that offer both comfort and style. With a plethora of types, fabric options, and styling ideas available, boys can effortlessly express their individuality through their sweatshirt choices.
Trending Types of Boys' Sweatshirts:
Hooded Sweatshirts: They remain a perennial favourite among boys. They feature a hood that provides warmth and protection during colder seasons, making them ideal for outdoor activities. Hooded sweatshirts come in various designs, including pullover and zip-up styles, and often showcase trendy prints, logos, or graphic embellishments.
Crewneck Sweatshirts: It is a classic option that never goes out of style. These sweatshirts have a round neckline, offering a more traditional and relaxed look. They are available in a range of colours and designs, from minimalistic and understated to bold and eye-catching patterns.
Quarter-Zip Sweatshirts: These are gaining popularity for their sporty and versatile appeal. These sweatshirts feature a quarter-length zipper at the neckline, allowing for adjustable ventilation and style. The combination of functionality and fashion makes them an excellent choice for active boys.
Fabrics Used by Boys Sweatshirts Exporters:
Cotton: Cotton sweatshirts are widely preferred due to their breathability, softness, and durability. Cotton blends, such as cotton polyester or cotton spandex, offer added stretch and better shape retention.
Fleece: This fabric provides excellent insulation and warmth, making them ideal for colder climates. They are often crafted from synthetic materials like polyester, which ensures moisture-wicking properties and quick-drying capabilities.
French Terry: It is known for its looped texture on one side and smooth surface on the other. This fabric offers a balance between comfort and style, providing a lightweight option for transitional seasons.
Styling Ideas for Boys' Sweatshirts:
Layered Look: Combine a sweatshirt with a denim or leather jacket for a stylish layered outfit. Pair it with jeans or chinos to complete the casual yet trendy ensemble.
Athleisure Appeal: For a sporty aesthetic, team a hooded sweatshirt with joggers or track pants. Add sneakers and a cap to enhance the athletic vibe.
Streetwear Chic: Opt for oversized or boxy sweatshirts and pair them with slim-fit jeans and high-top sneakers for an urban-inspired look. Accessorize with a beanie or a statement backpack.
The Role of Boys Sweatshirt Exporters:
Exporters play a crucial role in the global supply chain of boys' sweatshirts. They facilitate the production, distribution, and accessibility of these garments to a wide range of markets. Leading boy's sweatshirt exporters collaborate with manufacturers, designers, and retailers to ensure that high-quality sweatshirts are produced in line with current trends and demands. They help bridge the gap between suppliers and international buyers, contributing to the global fashion landscape by promoting diversity, affordability, and sustainability.
Thanks to the role played by exporters, these trendy garments are accessible to a global audience, providing fashion enthusiasts with a wide array of options to suit their preferences and needs.