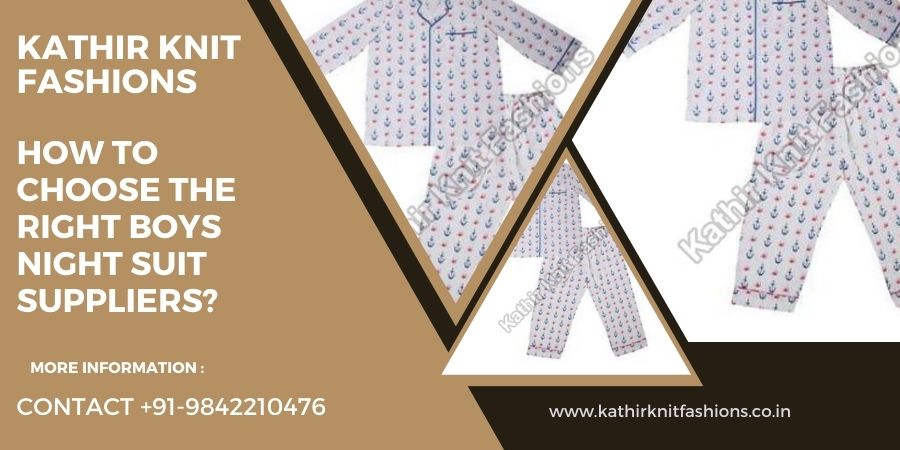 Selecting the best boys night suit suppliers is crucial if you want to make sure your kids have a comfortable and pleasant night's sleep. Finding the best supplier might be difficult given the abundance of options available. We will examine the critical elements to take into account when selecting the best supplier of boys' night suits in this extensive guide.
Textile quality
The cloth used in boys' night suits is the cornerstone of a restful night's sleep. Choose vendors who sell night clothes composed of supple, breathable materials like cotton or cotton mixes. These materials give off a warm feeling that enables your youngster to get a good night's sleep.
Standards for safety
When it comes to children's nightwear, safety ought to come first. Verify that the supplier complies with safety requirements and guidelines, particularly those that deal with flame resistance. Flame-resistant nightwear lowers the possibility of mishaps and gives parents peace of mind. Always look for safety labels and certificates that show adherence to industry safety standards.
Designs and styles
Boys' night clothes are available in a wide range of designs and styles to suit various tastes and hobbies. Consider the variety of possibilities offered by the seller and pick nightgowns that suit your child's preferences. The ideal supplier should provide a wide range of designs, from timeless patterns to cutting-edge prints, to make bedtime fascinating.
Age-Related Sizing
To guarantee that your child will fit comfortably, choosing the appropriate size is crucial. To assist you choose the most appropriate night suit, look for vendors who offer age-appropriate sizing guides. Correct size is essential because uncomfortable nightwear might interfere with sleep.
Effortless Care
Parents are aware of the value of easy-to-clean apparel, particularly for kids' nightwear. Choose nightgowns that can be machine-washed and require little maintenance to keep them looking good. Easy-to-care-for night suits are provided by suppliers, ensuring that parents can easily maintain the cleanliness and freshness of their child's sleepwear.
Customer Reviews
Read consumer testimonies and reviews about the supplier before deciding. Customer opinions can offer insightful information on the caliber of the night clothes, customer support, and general satisfaction. Look for vendors who have received good feedback and have a track record of keeping their word.
Certifications and accreditations
Reputable suppliers of boys' nightgowns may be in possession of these documents, which demonstrate their dedication to quality and security. Look for vendors that have been certified by reliable institutions and who abide by the rules established by the industry. These accreditations attest to the supplier's commitment to providing high-quality goods.
Customization Options
If you want your boys' nightwear to be special and tailored, ask the supplier about their customization possibilities. You can add your child's name or favorite characters using the personalized embroidery or printing services offered by some suppliers. Custom nightgowns can provide your child's sleepwear with a unique and enjoyable touch.
Cost and value for the money
Pay attention to the supplier's value for the money being supplied. Take into account the pricing in proportion to the fabric quality, design alternatives, safety features, and customer service. A reliable vendor should offer night clothes that are well worth the investment while maintaining a balance between quality and cost.
Return and Exchange Policies
To make sure you have the choice to return or replace the night suits, check the supplier's return and exchange policies. A welcoming and accommodating return policy demonstrates the supplier's faith in the caliber of their goods. Parents can shop with confidence thanks to this assurance.
Selecting the best source of boys' night suits necessitates a careful evaluation of numerous variables. For a pleasant and comfy sleep, a dependable supplier should concentrate emphasis on the comfort, security, and style of their nightwear. You can locate the ideal boys' night suits that satisfy your child's preferences by working with the correct source. Keep in mind that buying your boys high-quality nightwear is an investment in their well-being and general quality of sleep.